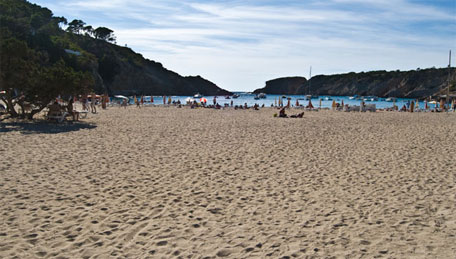 In our tour of the coves of Ibiza, Cala Vadella is a semi-urban beach. A piece of coast with a large sandy area where nature and civilization are separated by a crossing.
How to get there
Being located Cala Vadella , on the West Coast, in the municipality of Sant Josep, we can make the arrival from Sant Antoni, as Es Cubells, as the own town of Sant Josep, which is located about nine kilometers, and road which we suggest be the less sinuous. The area is surrounded by a small saw that we will have to go through. If it takes time we advise you to go to Sa Talaia, where the views of the coast are spectacular.
That I can find.
As a very closed and very protected from the embites of the sea Cove. The view from the shore just us leaves see a small piece of opening sea. The slopes are steep and a bit high, which also going to protect in the days of wind. As it is typical in the calas de Ibiza, old boathouses of fishermen are distributed a few meters from the shore, allowing you to enjoy the sea without the discomfort of sand.
The beach is wide, very wide for what Ibiza has accustomed US. We will not have many problems to put the towel. The only downside is that the area is fairly urbanised, so in summer also tends to pile up enough people.
Summer sports are insured. The practice of the volleyball Beach, the diving (spectacular) or the rental of pedalos us van to allow enjoy full of a beach perfectly equipped. And yes it yours are the bars and restaurants, nor going to have many problems.
Surroundings
If you liked both the beach wanting to stay close, the area is full of summer where you can enjoy your holiday apartments. If you can scroll we recommend the visit to punta de Sa Pedrera, with beautiful views of Es Vedrá. If your intention is to go running, the big clubs get caught you something away from Cala Vadella.
We the greatest drawback, as always, to find the displacement. The journey is covered by a single bus line, line 26, to Ibiza during the summer. Six journeys that are distributed from 9:45 to 21:00 out of Ibiza and 8:45 to 20:00 out of Cala Vadella. Also on Sundays and holidays don't work and in winter it seems here no one lives.
More information, photos and map