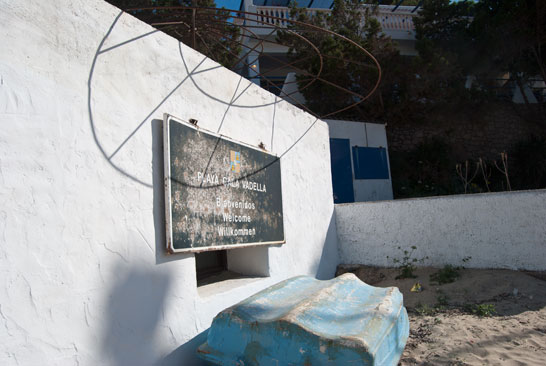 Some think it will photo I have chosen for this article. Well, the photo is not doctored. This more typical of a Western movie poster and the accumulated garbage were there when I arrived. And it took me to get mine. The first thing because this beach is on the West coast of the island, with a road that takes us between pine forests from Sant Josep to this tourist area. Second, because I live in the city of Ibiza, so the forty-five minutes long not nobody removing them I. Total to arrive and meet with the sign.
It seems that nobody understands that the image that offers a place where many families eat is when less important. They think that only with live and work in a privileged environment, with abundant sand beach, with hotels and apartments situated on the coastal and with spectacular views of Cala Vadella is more than enough. And maybe bring reason. But pay among all a new sign and take care of more of the beach, may not be so difficult.
The beach
Focusing on the beach, it has a fairly quiet look, with all the recreational amenities. Due to problems with the towel he won't be, because there are plenty of available space. The waves tends to be fairly calm, thanks to the structure of the Cove. More to penetrate the sea, gives the feeling of the Earth embraces a not very small portion of the Mediterranean.
Typical boathouses line the rocky cliffs that end up on the right side, on a large island which marks the deep waters.
Where to eat.
Due to lack of restaurants you won't be either. We have where choose, but respecting a traditional Ibizan food. Fish is the speciality of the area thanks to the abundant marine fauna that prowl the nature reserves.
How to move
We the greatest drawback, as always, to find the displacement. The journey is covered by a single bus line, line 26, to Ibiza during the summer. Six journeys that are distributed from 9:45 to 21:00 out of Ibiza and 8:45 to 20:00 out of Cala Vadella. Also on Sundays and holidays don't work and in winter it seems here no one lives.
You can find more information and pictures here