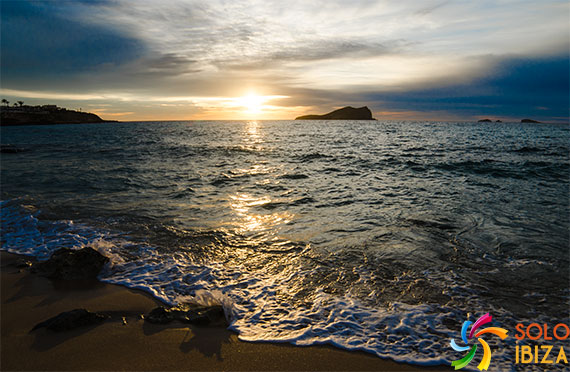 Cala Conta: A spectacular beach
For many years Cala Conta has been the meeting place of a good part of the locals of Ibiza. He found distanced from the towns had allowed in part preserving their anonymity. Today it is a unique place that gets adherents both in summer and in winter. Discover because.
Arriving at Cala Conta
The beach is reachable from the road that links San Jose with San Antonio. The signs are quite clear and rather sinuous path, but presents no danger. Before you arrive, we will see a gentle slope with a mixture of pines and dunes. This area of high ecological value, is the preamble of a trip you won't forget.
We are going to have a car park, but in summer it becomes scarce. Once we have delivered us from the car, so we can only see the beach from the coast to discover a different place. Beware of approaching too the edge as the ground is quite brittle.
The three beaches of Cala Conta
The beaches of Comte, name real, are a small succession of natural sandy areas separated by rock breakwaters. The first, and most applied, we found it opposite the car park. The views of the island's forest (S'illa des Bosc) invite cross swimming to it. Do not do it. The distance is greater than it seems. In addition, one of the characteristics of this area are strong sea currents. Don't stay away never coast.
Restaurant Sunset Ashram is located between the beach and the adjoining. It is closed in winter, but in summer it is a PIN. In this second beach we find with truly stunning views. In addition to Illa des Bosc, the Island rabbit Hutch is presented with a spectacular rugged coastline on which stands a high lighthouse. This is the only area that you can use access ramp.
We found the third important segment to the left of the parking lot. Access is via a staircase carved in the coast. In the old days was a place with little influx frequented by nudists. To be surrounded by rock make it a very desirable area by the protection offered in the days of wind.
One of the greatest pleasures offered by the Ibizan coast consists of travel (always with prudence) coastline and discover new places that do not appear on maps. On one of those tours, we can reach a small Cove, behind another restaurant, where a small Jetty serves as a beach for those who do not like so much sand. Being a fairly closed Cove they make it perfect for the days in which the sea is presented somewhat bravo.
There is more to go in Cala Conta costa, but it will be better to leave it for another day.
Discovering your brand
Of all of the above, nothing makes more popular this beach to its sunset. In summer you will cost take place. The fall of the Sun will produce between the islands of S'espartar, flat, Bosc and CAP, marking a unique and unmistakable silhouette. The sky becomes reddish in a stunning set of colors.
You can see all the information about Cala Conta in our Solo Ibiza.com