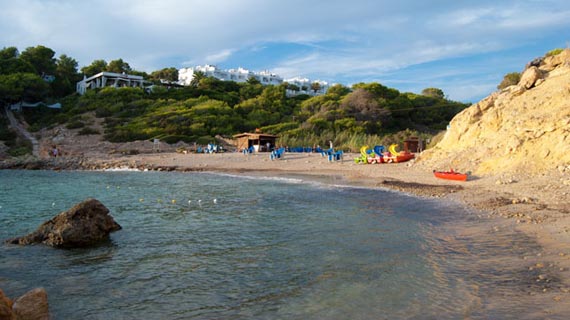 Codols is the name given rounded pebbles that sea shapes and leaves on the beach in Ibiza. It is not surprising then that this type of beaches, sparse, receive similar name. Here we find two beaches of similar name. Cala Codolar and beach of Es Codolar. In fact few things, except for the composition of the soil of the shore, with much more presence of codols Beach, they have in common and that the two are in the municipality of Sant Josep. Es Codolar beach next to the airport. This Cove is located more to the North, between the beaches of Cala Conta and Cala Tarida. Taking into account that the latter are crowded beaches, the presence of Cala Codolar is going to assume a nice break, because there aren't many people who know its location.
How to get there
Access is not very complicated. We will have to take the road that runs parallel to Port des Torrent, at the exit of Sant Antoni, in the direction of Cala Tarida. Halfway we will find a fork that we will take the detour to the right, with a distance of one kilometer and a half approximately. Arriving at the Grove, the beach will be close.
I will find
One of the most outstanding characteristics of this Cove is their orientation. The sunsets make a beautiful picture on the Cove. The sea enters an open Cove. The left side is especially high and rugged with a curious cave that seems to be about to be buried. Low erosion suffered by these rocks give rise to small ensembles by way of islets. The opposite side is a haven of tranquility where the waves come meekly to shore.
Shore is formed by the appointed codols, although we found some sections with sand. They are fifty meters of beach umbrellas and sunbeds, specially dedicated to those who like quiet environments. In addition to the parking, the Beach offers few additional services, although it has a bar that makes a day of pleasant beach. Except for a small development, the Cove is practically Virgin.
We also find a curious restaurant which is accessed through an endless ramp. And it is that in the quiet places, up to the exclusivity requires a plus.
You will find more information and photos on the tab of Cala Codolar