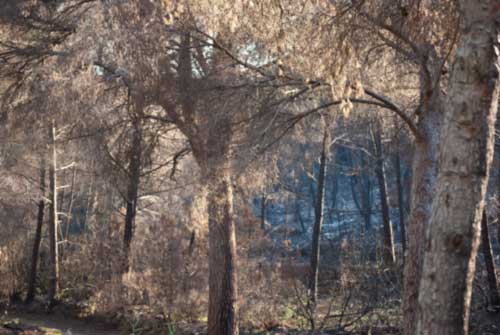 Benirras after the fire
From the five of the afternoon is burning all the Mount of Benirras. The situation does not seem very favourable. By now van 1500 people evacuated, several cars burned, some houses surrounded by the flames and all seems to indicate that goes to follow so some time more.
The thing is complicated, because the area is a large Grove of pines with steep slopes, so we do not know the time that will soon become extinct. We hope that soon, because many have friends working there, totally altruistically, in the civil protection services. I this night not sleep quiet. He climate not favors and from Palm have started to get effective military to treat of control as soon as possible the flames. Hope that is before then, and that tomorrow, all have been in a fright.
No end to imagine the anguish that they have because of pass who were on the beach and families who have had to leave by boat to avoid the flames. I can imagine a crueler than the flames setting not blow up their cars and approaching the beach. Children and disabled riding desperate private boats that, as it could not be otherwise, have approached to rescue them.
As I know that among policymakers confront the fire is very religious people, I will pray tonight for them, although I am not a believer. I just want to be able to call them within a couple of days, are when resting quietly in their homes, and thank you for saving one span of island. Because at the end and all, when in this small island Burns something so big, we all lose. Because at the end of each summer, tourists are going, and what is left, is our environment, our landscapes and the legacy of our children.
That this ends soon and without more scares.
Edited at 11:07 of August 23, 2010
Apparently the flames have affected two homes in the area. Aerial troops who have not been able to start extinction work until this morning have been incorporated. The deployment is still quite large. Three cargo on land, five helicopters, a 'canadair' aircraft, an observation of the Ibanat aircraft, a helicopter of the General direction of emergency, six fire engines and two ships nurse as well as about seventy displaced soldiers. The area where the fire is located is inaccessible. You can see the satellite image of google here
Edited at August 23, 2010 11:39
For the latest information pending to extinguish hot spots have been reduced to two. Apparently there has been a small focus is turned off quickly in Sant Miquel. Nobody explains if it is consequence of fire or is completely independent. We hope to be first. At noon there is press conference to explain the evolution of the fire.
Edited at 13:00 on August 23, 2010
Well, it seems that he has been achieved to establish only a front to extinguish. Figures begin to learn little by little, while the fire still active and until it is not given for extinct, nothing can venture. Between 130 and 150 hectares are affected at the moment. evicted 95, three minor injured by inhaling smoke and three houses affected by the strong heat. Almost 300 effective working against the flames, that excluding Civil protection volunteers that also participates.
From these lines we want to recognize their worth and delivery, seldom grateful for something that them, and much less, sufficiently to people with altruism expose their lives for the common good. There is already less guys.
Edited at August 23, 2010 14:47
Already van two hundred hectares and continues the level 2 of the fire (referred to those fire for whose extinction is expected the need of that, to request of the organ competent of the community autonomous, are built-in Media State not assigned to the Plan of community autonomous, or may behave situations of emergency that derived towards the interest national).
Edited to them 20:42 of the 23 of August of 2010
We just watching three cargo planes on Earth (we assume) over our houses in Ibiza. The people is looks to them balconies and those hairs is put of tip. We assume that the air support has ended for today. The wind that has been raised has returned to fan the flames and again be two outbreaks against those who fought. He more worrying seems to be which is directs towards the North, where the terrain hinders the action terrestrial. A member of them teams of Earth has had that be attended by a hit of heat but seems to be that without consequences greater. The fire begins to have dyes very serious.
Edited at August 24, 2010 09:36
They have time to get the news. There are already 250 hectares and fire is eating tip Xarraca. The disaster ecological begins to be evident. The wind rose yesterday and that today still blowing doesn't help much. It is expected a day of heat that does not bode well. They try to contain the flames so that they do not reach the atalaya de Sant Joan. Whenever the fire reaches the bass on a hill, the slope makes shooting and the situation becomes uncontrollable. Let us hope that today is well controlled, but not painted.
Edited at August 24, 2010 13:20
Eighteen specialists fire of the Ibanat and two helicopters joined the work of extinction. Sources near us comment that are getting encircle the fire and ahogandolo with them means air. It seems that in a few hours will be controlled at all. Finally it sees a bit of light.
Edited at August 24, 2010 14:58
According to official bodies, everything points to negligence in a cave, without giving more details. Sounds so rare. But already they seem to have clarified some doubts. The first is that this Cove with so many people, and with much less also, is a mousetrap. And second, the drums do not produce sparks. Although everyone assumes that this Sunday, was the latest tamborada in Benirras.
Edited at August 24, 2010 19:45
Well, it is not controlled at all, but at least is dimensioned according to the official version. It is a time of light so it won't turn off either today. The people on the island begins to be aware of the catastrophe. From here we express any support and put our scarce resources to any initiative in order to reclaim the area as soon as possible.
Edited at August 25, 2010 10:34
We just watching a caravan of fire trucks and military to catch. Waiting for official confirmation, we think that the fire has been controlled.
Edited at August 25, 2010 21:45
The fire has been given by controlled. You need to extinguish it, but danger seems to have passed. It's time to take stock, determine the causes and debug responsibilities. Environmental organisations seem to have found a because its existence and the outer of the extermination of the Festival of drums an argument to attack with more force.
Others just hope that nothing so happen, although without too much conviction again.