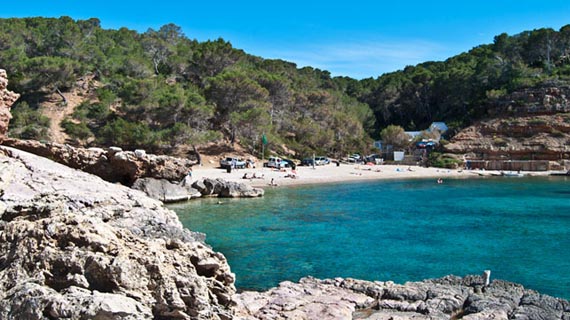 When one hears of the beaches and coves of Ibiza, wondering which will be the best beach in Ibiza. Because it will depend directly on whatever his intentions. We present a list of beaches and coves which can (or should) visit depending on the type of atmosphere and sand you want. There is a beach for every taste.
Best beach in Ibiza with musical environment.
Without a doubt, the answer is Beach d' Bossa. In particular the area occupied by the disco Bora Bora. In the evening speakers gather people on the sand dancing until the setting sun.
If you are looking for a more relaxed, we have several options. For those who don't like the sand, we find one of the most outstanding options in Cala Jondal. Three chiriguitos with different styles and options. Suitable for all audiences. If our choices do not pass through the beaches of bowling, then try the beach of S'Estanyol.
Best beach in Ibiza to enjoy nature.
We return to the option of sand. The best known for its mud baths is white Aiguas beach. The atmosphere in the main part of the beach is quite young, finding a more familiar section walking to the right. But if you prefer a more quiet and relaxed place away from the hustle and bustle, take the car and trasladense to Cala d' Serra. An authentic paradise.
We also have beaches for those who do not like much of the sand but the nature. In Sant Josep de Sa Talaia next to the airport, we have the beach of Es Codolar, a truly unique place.
Best beach in Ibiza to find famous
Here the choices are pretty clear. For us it is not far the best, but preferred by the celebrity world. We talk about the beach of Ses Salines, with exclusive beach bars where you will find more than one familiar face. And those who do not like the hustle and bustle? We can meet those in almost any isolated Cove, or even in a corner away from the most famous beaches. Try at the snack bar which is at the end of the Talamanca beach, or spend the day seeing as they disembark in Es Cubells, although if you don't have a boat you will be walking a bit.
The best beach in Ibiza
For our taste, and onbeach.com, we can find the best beach in Ibiza Cala Salada. We enjoy tando of a natural Beach stones, with incredible money, and a more lively atmosphere on the adjoining Beach, Cala Saladeta. A single Council. If you plan to go to this second Beach, follow our signs to not have a bad time.
See our guide to beaches of Ibiza.