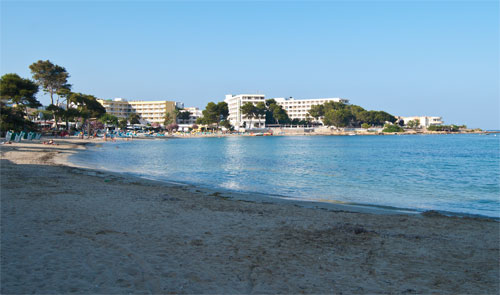 If ask to them visitors of the island what are them places more known of Ibiza, one of them without place to doubt would be is Canar. His hippy market is one of the reference points that preserve that spiritual air that envelops the island since the 1970s. The most famous tourists do not lose the opportunity to make any further buying in the magical stalls which are distributed all over the place. Magical because they have the power to get rid of the tickets with astonishing ease.
But what is not so common is that people know the small town of Es Canar, a tourist settlement located north of Santa Eulalia. Access is simple, because it is enough to take the road that passes through one of the most developed villages of the island, Santa Eulalia, in direction to San Carlos. At the exit of the first village you will find a detour to the right, a little jumbled, but follow the signs. As a reference, it should take the road towards this. After about five kilometers, we reached our destination.
Ground transportation is also possible by bus. Lines 18.24 and 37 are in charge of cover routes from Santa Eulalia, airport and Sant Miquel. Another option to consider is the transfer by sea. The first thing that draws our attention is the small Wharf located at the entrance of the road. From here you can stroll to Santa Eulalia, Cala Llonga Ibiza or move to Es Canar from these points.
That encontraemos in Es Canar.
As a small beach, of some three hundred meters of long, well sheltered of the running of the Mediterranean and surrounded by small complex tourist. The width is enough to not suffer agglomerations and them children tend to play calmly in the sand, of grain medium. The presence hotel has permitted the installation of several attractions water for them more active. If you are quiet, you can stroll in boat of panoramic background, where species marina on the island left to contemplate.
At the opposite end of the beach we find a curious walk with some exclusive bars, soak up the Sun with a refreshing drink where has all the earmarks of being a real pleasure.
You can find more information, map and nearby hotels on your tab