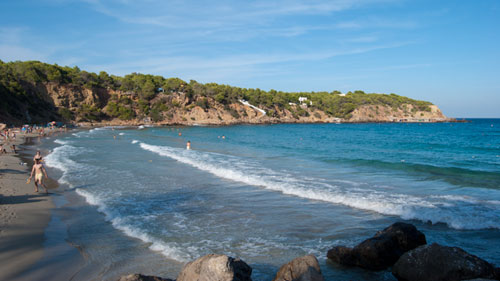 In our tour of the coast of Santa Eulalia, in the East of the island, we find Cala Llenya. Located between the beaches of Cala Nova and Cala Mastella, its two hundred meters of sand fine nestled in a natural setting will allow us to enjoy a very Beach day.
The area of Sant Carlos boasts of one of the areas furthest away from the main urban centres. And this beach is accessible only through this town, which will arrive from the neighbouring Santa Eulalia. It is the time to stock up if we have not, as Cala Llenya hardly has shopping areas. After taking the indication on the right in the direction of the beach, three kilometers will separate from our final destination, between pine trees, green areas and scattered houses. The typical landscape of the North of the island.
Sand, sand lot. Yagua. Crystal clear water. The beach is surrounded by high ground which protects it from wind and gives it some shade. Which is a wonder in the hottest months, but a drawback in June and September, when the Sun does not press with as much force and beach at sunset hours are significantly reduced.
The width of Cala Llenya is pretty good, avoiding crowds. If we take into account that just a couple of hotels overlooking the coast, and the remoteness with respect to other beaches on the island, in big cities, the beach is always going to be pretty clear.
Parasols and hammocks we won't miss, but not aquatic attractions. These are located on the right bank, bordering the Rocky area that indicates the end of the beach. These settings, together with the composition of the underwater soil, has allowed positioning beacons that limit the bathing area many meters from the shore. In fact, I don't remember a beach with a bathing area as wide, and them I have visited almost all. There is surveillance on the beach. Although I am no expert, a single watchtower for such extension of water seems insufficient.
On the coast surrounding Cala Llenya, we must highlight the left side. A short walk allows us to approach up to a precarious Jetty. I do not understand very well its location, as the rocks that almost come to the surface do not seem to invite the passage of any ferry, but the views of the beach are spectacular. A little later there are a few boat ramps, in a more sheltered area of the onslaught of water.
In the right section there is little thing, as though it is a stretch of land, it is quite steep for access on foot. All, except for a small stretch that have taken advantage of the annexed accommodation, to build a small almost private beach, outside the bathing area, and which serves also to vessels to transport tourists to the hotel areas of Cala Llenya.