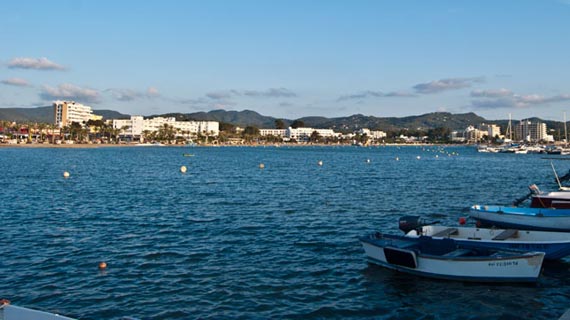 Today we stopped at one of the most typical that is usually carried tourists visiting Sant Antoni in Ibiza. From the arrival through the port, or by road, the beach of S'Arenal draws a walk coastal and very picturesque.
Port Arenal Beach
The beach of s'arenal extends from the sources (passeig de ses Fonts) walk to the beach of Es Pouet, being separated in this large Bay with a low and rocky coast of walking distance. By the way, small corners adopted as Beach by the hotels of the area, and sometimes, of Jetty.
Much has changed this area in recent years. The proliferation of settlements along the coast and urban union with Port des Torrent, belonging to the municipality of Sant Josep, gave not only life to this beach. The bars of musical surroundings nearby the town of Sant Antoni have brought a playfulness that has been flooded with more current music an important stretch of the beach. The presence of Es Paradis, Sant Antoni nightclub par excellence, has further accentuated the tourist and party atmosphere.
The ride has undergone major improvements and has recovered much of the lost vegetation, when Beach was a real Sandy dedicated to fishing activity. This marine environment is still present with the Marina facilities.
The treasure of s'Arenal
During the day, along the activity comes marked by people who moves to the city centre of Sant Antoni. The music sounds different in each meter that is advanced, and some enjoy the Sun lying on a hammock. But the afternoon, S'Arenal starts to turn on their lights to make way for one of the greatest spectacles that we can contemplate in Ibiza. And it's free. We are talking about the sunset. The sunsets are legendary in this town, and S'Arenal never ceases to be a good place to enjoy it.
It only sticks it are going to find in the water. Perhaps s'Arenal is located too near the area port, and that implies that their waters not van to be all it transparent and crystalline that could find. If you arrive with the already since swimsuit and can not endure, move everything from the pier. For a more quiet and crystal clear waters, we advise you to travel to cala Gracio.
For more information, map and photos can consult the tab of the beach of s'Arenal