Apartments Lido is located in the area of Ibiza Centre, to about 6.31 km of the airport of the island of Ibiza. To move to the accommodation, we suggest you rent your car at the airport in Soloibiza.
Information of apartments Lido
Apartments Lido
Input:14:00
Output:12:00
Located in Pere Matutes Noguera, 27, Ibiza town, Balearic Islands Spain 07800
Find the best prices in apartments Lido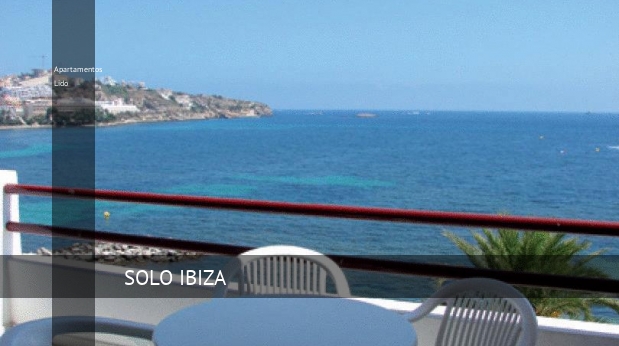 Common services in apartments Lido
For your information, we present a list of common services in apartments Lido listed by category. You can select your room to launch its inquiry.
General
It has parking
Accommodation with parking
Activities
It has billiards
Ping-pong available
Services
With Internet access
Available WiFi service
It has free Wi-Fi
Food & drink
Bar available
Drinks vending machine
Snack vending machine
Swimming pool and wellness
It has outdoor swimming pool
In season offers an outdoor pool
There is swimming pool
Front desk services
Reception service 24 hours
Availability of safe
Point of information for tourism
Luggage storage available
Common areas
It features garden
It has terrace
Available terrace or solarium on-site
Several
Rooms for non-smokers
Suitable for people with reduced mobility
There are family rooms
Elevator
It has heating
It has air conditioning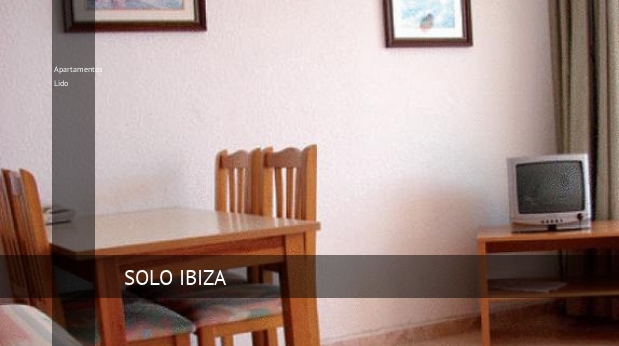 Available rooms at Apartamentos Lido
Here are some of the available rooms at Apartamentos Lido with a description of services.
Apartment 2 single bed (s). Maximum 4 person (s)
Bathroom with bathtub
Safebox
Phone available
Climate control / air conditioning
There are kitchen space
Available with balcony
Equipped with a refrigerator
Equipped with desktop
Area available
Fan included
With toilet included
Enabled bathroom
Equipped with heating
Satellite channels are available
Available sofa
Tiled floors or marble
Room with a view
It has dining room
It has kitchen accessories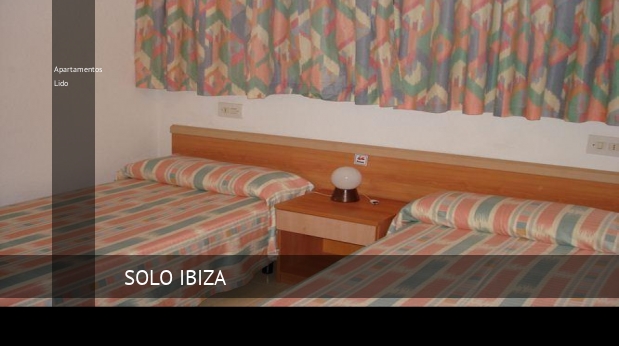 Lido apartments video
If you prefer, you'll be able to see full screen Youtube video of apartments Lido .
As you scroll down the airport to Apartamentos Lido in your rental car
If you've hired vehicle rental of withdrawal in the airport of Ibiza or shuttle, go to Lido apartments will look very simple following these signals. If you do not book your own vehicle we suggest you reserve one page of cheap Ibiza Airport car rental.
Go to the Southeast
Salt of the roundabout in CTRA Circunvalacion Ibiza
Follow E-20
Take the exit toward Centre Ciutat Ibiza/Sant Josep
At the roundabout, take the first exit towards Av. Sant Josep de sa Talaia/PM-801
At the roundabout, take the first exit
Continue along Av. de Sant Jordi
Turn to the left towards Carrer from the Port of la Savina
Turn right to Av. Pere Matutes Noguera

The target is on the left.

Hotels near Lido apartments

If there is no availability in Apartamentos Lido or is not to your liking you will reference other next establishments in the list below.