Franziska House apartments are located in the area of Our Lady of Jesus, about 11.1 kilometres from Ibiza Airport. To get to your accommodation we recommend booking a car with Soloibiza.
Information of apartments Casa Franziska
Apartments Casa Franziska
Input:14:00
Output:11:00
Located in Carrer de Ses Feixes 64, Talamanca, 07800 Spain Balearic Islands
Find the best prices in apartments House Franziska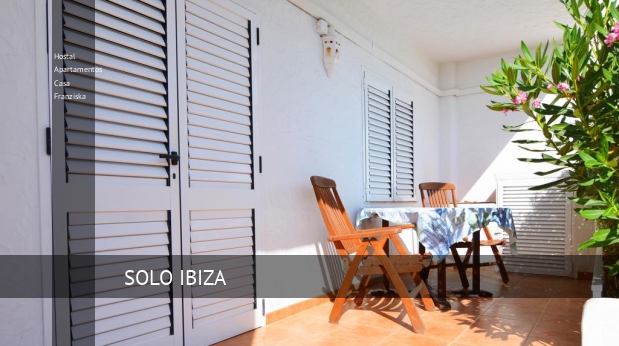 Common services in apartments House Franziska
For your information, we present a list of common services in apartments House Franziska presented by category. You will be able to select your room by submitting your search.
Services
With Internet access

Available WiFi service

It has free Wi-Fi
Transport
Shuttle service to the airport

Vehicles for rent at the airport

Transfer to the airport of payment services
Common areas
Several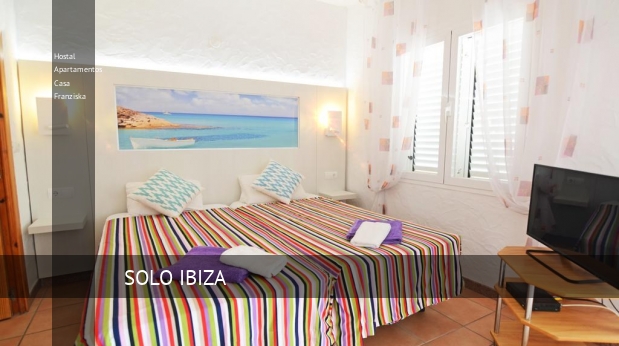 Apartments Casa video Franziska
Now you can play fullscreen apartments House Franziska video on Youtube. We remind you that you have a complete video list of best hotels in Ibiza
As you scroll down the airport to Apartamentos Casa Franziska with your rental car
If you have vehicle pick-up at the airport of Ibiza or with shuttle bus, scroll down to apartment house Franziska will be easy following our instructions. To provide a cheap car hire in Ibiza Airport we recommend that you go through this site with the best deals from the market.
Go to the Southeast
Salt of the roundabout in CTRA Circunvalacion Ibiza
Follow E-20
Take the exit toward Puig d'en Valls/Jesus/Port/Centre Ciutat
Straight
At the roundabout, take the third exit towards PMV-810-1
At the roundabout, take the first exit and continue by PMV-810-1
Turn right onto Carrer des Cap Martinet
It continues along Carrer de Jesús
At the roundabout, take the first exit towards Carrer de Ses Feixes

The target is on the left.

Hotels near apartments House Franziska

If they have no availability at apartments House Franziska or it is not to your liking you will ask next establishments in the following list.

The following two tabs change content below.

Latest posts by Solo Ibiza (see all)