Apartments Sunset Oasis Ibiza – Only Adults
Sunset Oasis Ibiza apartments are accommodations for adults only who are situated in San Antonio Bay. Among the advantages of your position is close to the beaches of the Bay itself, as well as easy access to the main centres of the town fun. Another advantage that present the apartments is the tranquillity of the area, perfect for those moments of rest.
In the vicinity we can find all kinds of services. The presence of Es Paradis nightclub close by will allow us to enjoy the Ibiza night.
Input:15:00
Output:12:00
Located in , ,

See on the map.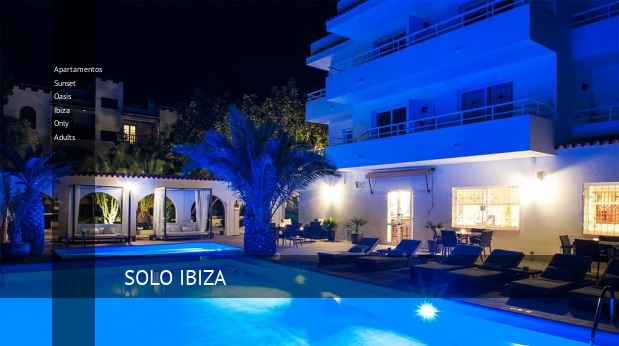 Common services in apartments apartments Sunset Oasis Ibiza – Only Adults
Swimming pool and wellness
Several

Available rooms at apartments Sunset Oasis Ibiza – Only Adults

sofa (s) bed. Maximum 4 person (s)

Bathroom with bathtub
Safebox
Television available
Climate control / air conditioning
Available with balcony
Equipped with a refrigerator
Area available
Equipped with microwave
Enabled bathroom
Satellite channels are available
Equipped with kitchen
Wide safety box for laptops
Available sofa
It has dining room
It has kitchen accessories
Available cabinets
Equipped with hotplates
It has a bidet
It has views of the sea
Overlooking the pool

Hotels near apartments Sunset Oasis Ibiza – Only Adults