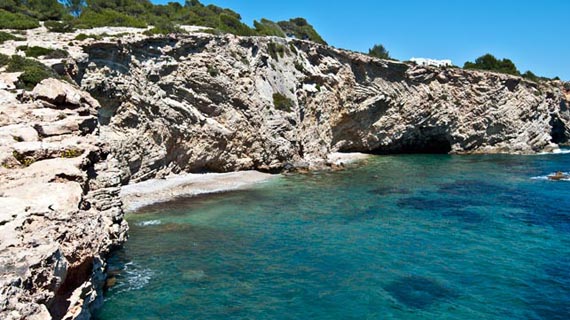 10 tips for a holiday in Ibiza
1 defines how like to pass your holiday before arriving to the island. If the clubs going, looking for accommodation near Ibiza town. If the beaches and sunsets will you more, look on the West Coast, preferably in Sant Josep. The Centre of Sant Antoni, especially all the area surrounding Passeig de Ses Fonts is not recommended for minors and Yes for those looking to March to the English. The tourism of quality, and more expensive therefore, is located in Santa Eulalia and facing the port of Ibiza. If it is peace you need stay at Sant Joan to the North.
2 make sure you are well connected at all times. If you're not going to hire car at the airport, you can rely on bus service, but be careful with timetables and destinations. Drag a suitcase during a kilometer and a half can be hell. Do not trust your travel to and from taxi service. The flag fall is one of the most expensive in Spain and the service becomes saturated at noon and at the hour of closing of the clubs. To your arrival or departure we recommend an Ibiza Airport Shuttle service if you do not have car. You can save yourself a good fortune.
3 not you forgetfulness in the beach. The arrival of vacationers is directly proportional to the increase of robbers. Keep the necessary precautions in the sea and keeps the hours to digest properly. Not you goals drunk in the sea, the drunkenness not are you will pass and you can take a good scare. The same occurs with them hits of heat. No abuse of the Sun. If you are going by bus, remember that the latter usually ends about six in the afternoon.
4 If you drive, respect traffic signs. It is a small island, don't run because in 15 minutes, you'll cross the island. Ibiza is full of radars and car rental houses aren't going to voluntarily pay the fine. The controls out of the nightclubs are also frequent, and there is no way to escape them. Ibiza crosswalks are sacred and never leave in a double row. The municipal crane has no punches and a withdrawal of the car is going to raise two hundred euros your holidays, without lost time.
5 arriving at your accommodation, keep valuables in the safe, but above all, keep your orderly room before it goes the waitress of floor. The time for which available to perform its task is limited, so do not put things difficult. If you're that clean shoes with towels, not change them yourself. Sand bed did not arrive until there herself. If you have a complaint, directly at reception. Not you face with staff because not going it to change and may be worse remedy than the disease.
6 respecting the hours of rest. We know that you come from party, it does not need to know the rest of the city. Even if you go to sleep in the morning, some tourists and workers will be lifted early. And if you wake up late, remember that the room cleaning service only work eight hours. What for you is the breakfast time, for others is the time to go home.
7 eye with parties in nightclubs. Before complaining about the price of the entry check is the spectacle offered. Many include explicit adult content, so you no offense you once you enter. If you want to avoid the queues you can buy tickets online. Also remember that you must return to your accommodation. There is a line of specific bus for the clubs. At the time of exit, the taxi is usually saturated, don't miss pulled. Before put you anything by the body, remember that Ibiza is not the best site so that your family will have to move to a hospital compound. In addition, if in the morning you won't remember anything, they pull money.
8 Ibiza is world heritage. You not going to pass anything to give you a tour of the walled city or visit any coastal defence towers. The views are highly recommended. It takes your camera to immortalize your visit. And if you like sunsets, remember to be on the West Coast in the afternoon.
9 visit Formentera. It is here on the side. There are boats that will allow you to make a visit of back and forth on the same day. But visiting it. Water, bathing suit and sunscreen. Sometimes the bathing suit is going to overrun. If you can, spend a night there. There are quite a few hotels in Formentera and overnight without clubs not going to pass anything.
10 don't miss the plane to return. You arrive at the airport sufficiently in advance. It monitors what you get and buy a souvenir in a souvenir. Or a shirt. If you can buy any Adlib shirt you can claim on your return. At the airport you will also find ensaimadas Ibiza, quite rich and ready to transport. Respects and have fun. Follow our tips for a holiday in Ibiza. Sure, some day you'll come back.